No matter who you are, slow internet speeds are maddening. Slow equals missed opportunities, unproductive work time, and a drop in revenue. 
Let's get to the root of the issue—why is your internet so slow in the first place? Traditional routers can only reach so far. Physical obstructions such as floors and doors or large, cavernous spaces can cause dead spots and interference from other devices. Most notably, a lack of power and data cables in remote corners requires a mesh setup rather than direct-line. 
Fortunately, there's a way to fix slow. What you need (and we're sure you already know this) is mesh. Fine, but what is a WiFi mesh network? Continue reading to discover how to set up mesh WiFi, plus everything else you need to know.
What Is Mesh WiFi
?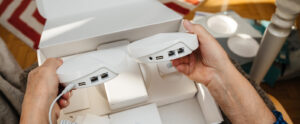 Mesh WiFi is a way of blanketing your business with multiple router "nodes" so you get solid network coverage without interference, no matter where you're standing. 
When someone signs on to the internet, their device automatically uses the connection point nearest them. Obviously, people don't just stand statically when working, but mesh WiFi is not a problem. Even when walking about, a user's device stays connected by handing off traffic to closer nodes, thus preventing stalls and optimizing their wireless experience. 
With mesh, several connection points are placed around the office, linked to and reinforcing each other while routing traffic and maintaining excellent speed. 
This modular method of mesh is customizable, flexible, and scalable. You'll never have to manually switch from one network to another (as you do with network extenders), and you can still provide guest network access without compromising security. 
To be succinct, a mesh WiFi network:
Optimizes wireless client connectivity

Provides superior performance

Performs dynamic resource allocation

Gives a layer of control

Ensures security resilience
Plus, it's easy to deploy and simple to use. What more could you ask for?
How to Set Up Mesh WiFi
If you insist on doing it yourself, here's how. There are three parts to setting up mesh WiFi—what needs to be done before, during, and after. Knowing what's involved in these steps helps you plan your attack and get it done efficiently and correctly.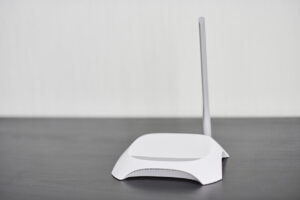 Before Mesh WiFi Setup
Preparation is key for optimal results, so here's what to do before installing mesh:
Choose a powerful, easy-to-manage

Cisco Meraki Wireless

cloud WiFi solution featuring: 

Layer 7 Application QoS

Location Analytics

RF Optimization

Wireless Health

Calculate the square footage of the coverage area (don't forget outdoor space). 

Determine how many nodes you need to reach two-thirds of their specified full coverage (account for physical barriers and large spaces).

Get a network switch if VLAN tagging is required by your ISP.
During Mesh WiFi Setup
Now is the time to move forward with mesh installation: 
Download the solution's application.

Unplug your current router and connect it to the main node with an ethernet cable. Restart the router (you may need to put it into mesh mode).

Create and log into your mesh network account.

Input the serial number (or scan the QR code, if there is one) and the main node's location (or name) and connect it to your account. 

Check that all access points have the same SSID as each other and are connected to the same channel and band.

Decide where and to which electrical outlet each node is to be connected and plug them in one at a time (away from sources of interference, if possible).

Mount nodes (high if they're meant to reach through ceilings, low if they need to reach through floors).
After Mesh WiFi Setup
You're not quite done yet. You still need to:
Finalize your network setup, which may include downloading software.

Set up and check restricted access controls, a guest network, and all security settings.

Test your network speed in various areas of your office (including outdoors).
Mesh WiFi Network Setup Services
Sure, you're knowledgeable, capable, and the captain of your enterprise—but you likely lack bandwidth. It's not hard to set up a mesh WiFi network, but it does take time that you probably don't have. 
This is where, as captain, you assign the project to someone else to handle. And who should that be? You guessed it—us. 
Stratus Information Systems would love the opportunity to help you quickly move forward with this project. Here's why we're the right engineers for the job:
We let you

try Meraki

in your environment—for free. 

We will intelligently analyze your current wireless network, evaluate your needs, and visualize future trends so you can get the setup of your dreams.

We proactively mitigate issues before they become full-scale emergencies.
Each interaction with Stratus is more than a transaction. Our years of in-depth experience allow us to offer ongoing advisory services and support with our partners.
When you're ready to take the helm and bring us on board, contact Stratus Information Systems.